UH Rainbow Euclid Pediatrics
Taking Your Baby Home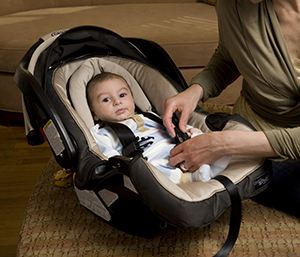 Most parents are excited to take their baby home after days or weeks in the neonatal intensive care unit (NICU). But the idea can make some parents nervous. When a baby is ready to go home depends on many things. Each baby must be checked to see if they are ready. And, the family must be prepared to give special care the baby may need.
The American Academy of Pediatrics (AAP) has a policy statement on when high-risk newborn babies should go home. The information below about discharge is based on those guidelines. Ask your baby's healthcare provider for more information based on the needs of your child.
In general, babies may be ready to go home when they:
Are steadily gaining weight

Have a stable temperature in a regular crib

Can feed from a bottle or the breast without trouble breathing or other problems

Have mature and stable heart and breathing ability
Babies also need:
Vaccines 

Screening tests, including vision and hearing

Exams to look for other problems

Treatment plans for ongoing medical problems
Parents and other home caregivers need instruction in:
Feeding

Basic baby care (baths, skin and diaper care, and taking temperature)

Infant CPR (cardiopulmonary resuscitation)

Symptoms of illness

Sleep positioning and car seat safety

Use and care of special medical devices or equipment

Giving medicines

Doing special procedures or care, such as suctioning or special dressings
The follow-up care plan for each baby includes finding a primary healthcare provider and specialists to help with any special needs of the baby. Parents also need to get the home ready for the baby. This may include: 
Arranging for special home care services or equipment
Not smoking in the house and around your baby
Making sure there are no blankets, toys, or other objects in the baby's bed
If possible, request a parenting room so you can stay with your baby 1 or 2 nights before taking your baby home. This often helps parents feel more secure because. You can take over the care of your baby with nurses and other providers nearby. Ask if your hospital has a hotline number or call center you can call if you have questions once you take your baby home.